In the Burnaby area, right off of Still Creek, lays a hidden gem in pet wellness; K9 Rehab Wellness Centre offers Hydrotherapy, Canine Massage, and Post-Surgery support for dogs of any age or breed. Their stately facility offers comfort and a relief from pain for dogs who have anything from joint issues to anxiety, and their pool and Hydrotherapists are always ready to help older dogs heal, or just plain have fun! In the center, they also host 'The Roving Vet', Dr. Shulamit Krakauer who practices holistic, homeopathic medicine for all her patients, and integrated vet Dr. Radica Raj of 'Phoenix Rising Integrated Vet Care'.
K9 Rehab is all about dog wellness and above all, dog happiness. The storefront offers plenty of products that aid in keeping your dog happy and healthy, including healthy treats, toys, and physical aids for dogs that have disabilities. One of their favourites is called the "Help 'Em Up Harness", and one of their Hydrotherapists Toni had this to say about it;
"Many of our clients, both younger and older dogs, use this harness to provide them with the extra support they need.
The "Hip Lift" half consists of a belly band, support straps and a movable pelvic pad that spreads weight over multiple surfaces, allowing you to lift the complete pelvic floor while supporting the spine. By lifting from beneath, and not around the legs, it reduces strain on joints, ligaments and arteries.
We are proud to carry this line of harness as we see the benefit it has given to our furry clients."
The Help 'Em Up Harness has consistently wonderful reviews and has proven time and time again to be an invaluable source to owners of arthritic, injured, or otherwise physically disabled dogs. It lets the owner hold up a portion of the dog's weight while still enabling the dog to move their legs and exercise their muscles and joints in a way that greatly reduces physical stress on their body. It comes in multiple varieties, all of which can be viewed and sized on their website. There is also a video available on youtube that shows how the Help 'Em Up Harness is worn and used.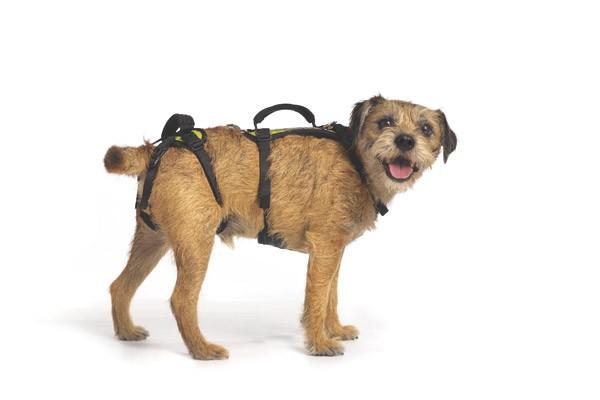 If you are interested in this product or other therapeutic options to help out your pups, K9 Rehab is having an open house this Sunday on January 28th, 2018 for Dr. Raj of Phoenix Rising Integrated Vet Care where she will host a meet and greet from 12-2pm. Please stop by to check out the facility and listen to Dr. Raj's words of wisdom about integrated medicine, her treatment options for pets, and her advice.
K9 Rehab is located at 3831 Still Creek Ave, Burnaby, BC. Call (604) 435-0002 to reach them and ask about their services! Visit their facebook or their website for more information about their services and about both hosted veterinarians.