At year's end last year, we held several training day sessions for our new K9 Gentle Dental staff members. These training sessions were held in Vancouver for a discounted price, with all proceeds going to local dog rescues. Recently we finalized a donation of almost $900 split between two fantastic rescues: Citadel Canine Society and Embrace a Discarded Animal Society.  We would like to extend our heartfelt thanks to all our clients who came in for our training sessions and supported not only our new staff members, but also these great rescues. K9 Gentle Dental is committed to supporting dog rescues with discounted cleanings and fundraisers throughout the year.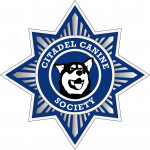 Citadel Canine Society (Citadel Therapy Canine Society)
Citadel Canine Society rescues, trains, and provides service dogs to children, veterans, and first responders at no charge. This rescue operates out of the Vancouver area and was incorporated in 2012. This rescue is unique among most service dog providers in that they rescue their service dogs-to-be. Currently, agencies do not cover the cost of training and delivering service or companion dogs to new veterans. Connecting these very deserving citizens with the service dogs can only be achieved through donations or payments from the veterans themselves. Citadel Canine Society also provides follow up training for very low rates. Citadel Canine is operated entirely by volunteers and pays for delivery and training of service dogs by extremely qualified trainers (who charge very low or no cost at all).  They have a network of trainers throughout the country including British Columbia, Alberta, Saskatchewan, Ontario, and Nova Scotia.
Citadel Canine Society is a registered charity and relies on donations to continue pairing rescued dogs with veterans, first responders, and children in need.
Learn more at http://www.citadelcanine.com/
Or find them on Facebook at  https://www.facebook.com/citadelcaninesociety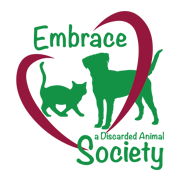 Embrace a Discarded Animal Society
Embrace a Discarded Animal Society rescues and re-homes high kill shelter dogs. These dogs are in terrible situations and require quick assistance. Embrace has been rescuing dogs from California since 2012. Located in the Vancouver area, this rescue helps match the small dog over population in California to the interest in small dog ownership from people in Vancouver. Up north we have much more problems with large dogs. This rescue supports local large dogs with fundraising for spay and neuter programs for other local organizations. They are also actively involved in education especially about overpopulation and the need to spay and neuter.
Embrace a Discarded Animal Society is a Registered Canadian Charity, and they rely solely on the goodwill and donations from those in our community.
Learn more at http://www.embracesociety.ca/
Or find them on Facebook at https://www.facebook.com/embracesociety
Do you have a dog rescue in need of assistance?
We offer a fundraising program for rescue organizations. You can host a dental clinic with us and receive a percentage of the profits. It is a great way to raise money and awareness about your organization. We'll help you promote the clinic and your rescue. Learn more about hosting a clinic on our host clinic page or send us an email at info@k9gentledental.ca